The floating cinema: environmental education documentaries
Potter, Martin (2011) The floating cinema: environmental education documentaries. [Creative Work]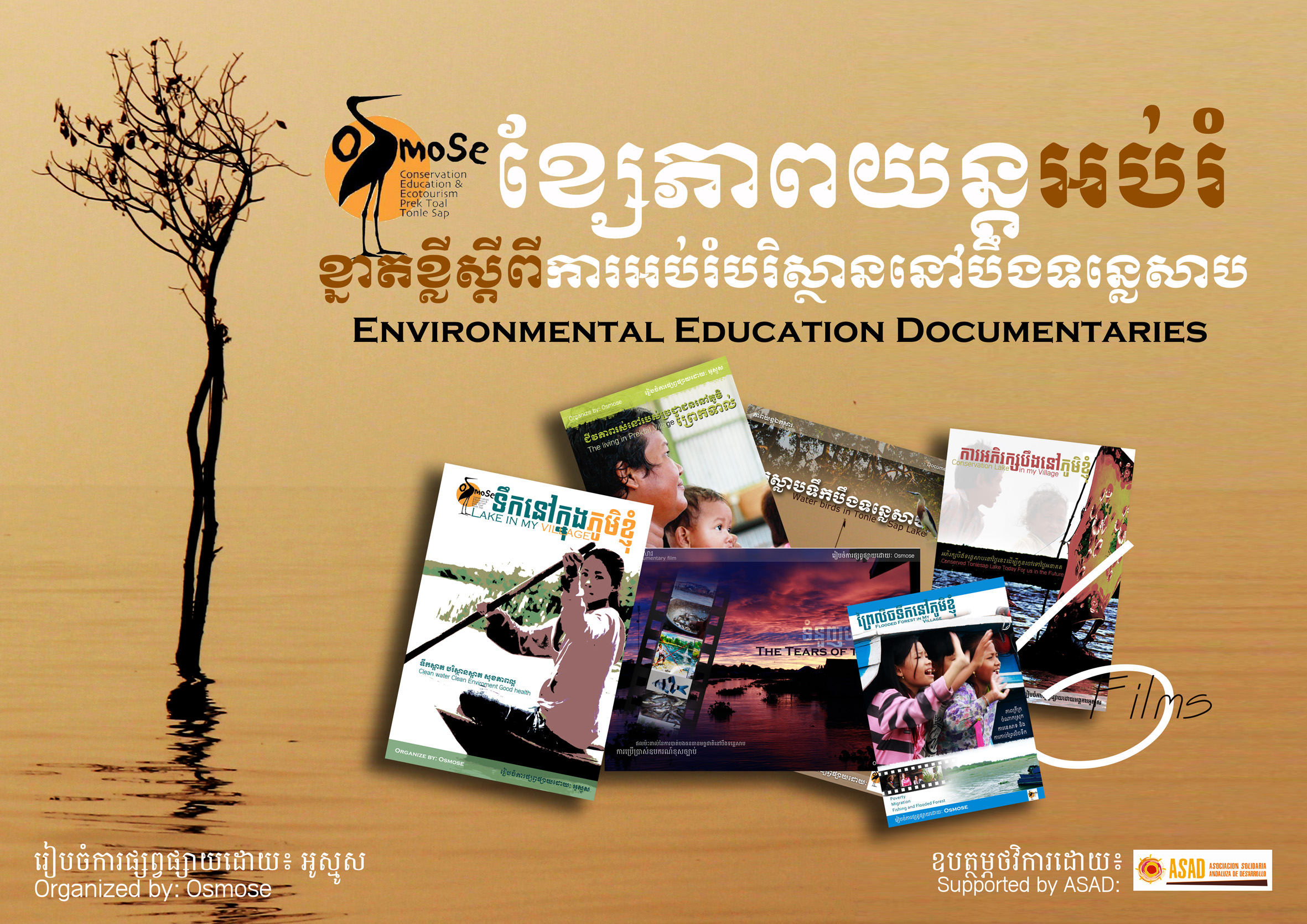 Video (MP4) (Tears of the Fish: participatory video produced by environmental education students on the Tonle Sap, Cambodia)

- Supplemental Material
Available under License Creative Commons Attribution No Derivatives.
Download (28MB)

Video (MP4) (Lake Conservation in My Village: participatory video produced by environmental education students on the Tonle Sap, Cambodia)

- Supplemental Material
Available under License Creative Commons Attribution No Derivatives.
Download (27MB)

Video (MP4) (The Lake in My Village: participatory video produced by environmental education students on the Tonle Sap, Cambodia)

- Supplemental Material
Available under License Creative Commons Attribution No Derivatives.
Download (23MB)

Video (MP4) (Flooded Forests: participatory video produced by environmental education students on the Tonle Sap, Cambodia [High Resolution])

- Supplemental Material
Available under License Creative Commons Attribution No Derivatives.
Download (50MB)

Video (MP4) (Flooded Forests: participatory video produced by environmental education students on the Tonle Sap, Cambodia, Part 1 [Low Resolution])

- Supplemental Material
Available under License Creative Commons Attribution No Derivatives.
Download (27MB)

Video (MP4) (Flooded Forests: participatory video produced by environmental education students on the Tonle Sap, Cambodia, Part 2 [Low Resolution])

- Supplemental Material
Available under License Creative Commons Attribution No Derivatives.
Download (25MB)

Video (MP4) (Behind the Scenes: participatory video produced by environmental education students on the Tonle Sap, Cambodia [High Resolution])

- Supplemental Material
Available under License Creative Commons Attribution No Derivatives.
Download (36MB)

Video (MP4) (Behind the Scenes: participatory video produced by environmental education students on the Tonle Sap, Cambodia [Low Resolution])

- Supplemental Material
Available under License Creative Commons Attribution No Derivatives.
Download (29MB)

Preview

Image (JPEG) (Floating Cinema: DVD cover)

- Supplemental Material
Available under License Creative Commons Attribution No Derivatives.
Download (671kB) | Preview

Preview

Image (JPEG) (Floating Cinema: Poster)

- Supplemental Material
Available under License Creative Commons Attribution No Derivatives.
Download (1MB) | Preview

Preview

PDF (Osmose and ASAD Report on Training)

- Supplemental Material
Available under License Creative Commons Attribution No Derivatives.
Download (1MB) | Preview
Abstract
The Floating Cinema was a participatory media for environmental education research project run as part of an environmental awareness program for the floating communities of Tonle Sap. The Tonle Sap is the largest freshwater lake in South East Asia and the biggest inland fishery in the world. There are over 1 million people living in floating settlements on the lake whose livelihoods are totally dependent on the productivity of the lake and over 3 million additional people mostly dependent on the lake (Ratner et. al., 2017). This productivity is increasingly reliant on complex integrated water management with diverse stakeholders across the Mekong basin (Keskinen, 2006).
The Floating Cinema was part of an environmental education and awareness program run by the Cambodian-French non-government organisation Osmose. Supported by the Spanish NGO Asociacion Solidaria Andaluza De Desarrollo (ASAD), Osmose implemented a reform of their environmental education and awareness program from mid-2010. The previous model of environmental education developed by Osmose in 2002 was adapted to respond to pressing contemporary issues such as overfishing, hydroelectric construction on the Mekong and climate change. In addition, curriculum was developed for a wider age range, including an adult education program. There was also a focus on creating broader impact beyond direct participants in the program with a hope to transmit key messages from the program across the villages as a whole and potentially to other floating settlements.
Participatory videos are an accessible tool to approach certain issues with the community in order to enable them become creatively engaged in producing stories that reflect on issues and solutions to local problems. In the videos produced for this research project, the environment plays the leading role, while children and adults who have participated in the education and awareness program are the creative team. Along with teachers, participants developed a message and a creative treatment of this message. The result was a series of participatory videos in which community people talk about some of the most pressing environmental issues in their village. The program began with a 2-week training in two villages in April 2011, continued over the course of the semester with classes developing their own scripts and a final 2 week facilitated production process in June. Videos were edited in Phnom Penh and sent to communities for feedback and approval, prior to completion and screenings from August.
This model was inspired by the Fogo Process, run by filmmakers working with National Film Board of Canada and Memorial University in Newfoundland in 1966 on Fogo Island (as detailed in Potter (2012, 2014). As with Fogo, the floating villages face a range of complex environmental and social issues. There was little connectivity between the villages due to distance, no mains electricity and no local communications such as telephones or radio. However, many issues were shared and needed to be addressed collectively. Developing locally relevant information that could bridge these gaps and build a sense of collective identity was also important. The participatory video process supported villagers to describe local issues in their own way, to communicate that local concern between villages and ultimately to share that concern through the videos with a wider population.
Research Statement
Research Background
Participatory media can be used as a research tool within communities, and to address local problems, by raising awareness, building concern and developing and communicating local solutions. For communities living on the Tonle Sap in Cambodia – the largest freshwater body in South East Asia and biggest inland fishery in the world – significant threats to their environment and livelihoods are being faced. Floating Cinema was a project designed to co-create knowledge of these environmental issues, formulate community approaches to possible solutions, and communicate to other villages via participatory video screenings. Specifically, this research addressed the question: to what extent can participatory video offer an effective pedagogical method for environmental education in the Tonle Sap region?
Research Contribution
Floating Cinema was a participatory video project that collaborated with research students from a Cambodian environmental education program. As filmmaker-in-residence for a 3-month period, Potter worked with Cambodian-French NGO, Osmose, and was supported by Spanish NGO, Asociacion Solidaria Andaluza De Desarrollo, to provide training to course participants and mentor them to produce video outputs and reports that would support monitoring and evaluation of the program. The resultant 7 participatory video outputs t explored environmental issues in the region's villages, and were screened and distributed locally, nationally and internationally, via DVD.
Research Significance
A report by the University of Granada noted that this work resulted in the highest attendance of young people and adults in the environmental education program since 2004, and observed that participants had an improved knowledge of environmental issues compared to other groups. Furthermore, grade 5/6 students improved environmental behaviours as a direct result of this project. As a result of this, the project went on to engage other village communities, extending the reach of the program from under 100 people to over 2000.
Item ID:
51744
Item Type:
Creative Work (Recorded/Rendered Work - Audio/visual recording - NTRO)
Keywords:
participatory media, participatory video, community media, digital storytelling, environmental education, Cambodia, Floating Villages, Tonle Sap
Related URLs:
Funders:
Osmose, Asociacion Solidaria Andaluza De Desarrollo (ASAD), University of Granada (UG), Royal University of Law and Economics (Cambodia), University of Leicester (UL)
Date Deposited:
19 Feb 2018 02:19
FoR Codes:
19 STUDIES IN CREATIVE ARTS AND WRITING > 1902 Film, Television and Digital Media > 190204 Film and Television @ 40%
20 LANGUAGE, COMMUNICATION AND CULTURE > 2001 Communication and Media Studies > 200103 International and Development Communication @ 60%
SEO Codes:
96 ENVIRONMENT > 9607 Environmental Policy, Legislation and Standards > 960703 Environmental Education and Awareness @ 50%
94 LAW, POLITICS AND COMMUNITY SERVICES > 9403 International Relations > 940302 International Aid and Development @ 30%
95 CULTURAL UNDERSTANDING > 9502 Communication > 950204 The Media @ 20%
Downloads:
Total: 379
Last 12 Months: 16
More Statistics