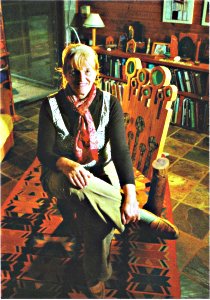 Photograph: Stewart McLean
Mary Vernon wrote this profile of Anneke in the Townsville Bulletin, 4 July 2007:
Anneke Silver is not only an artist, but the acclaimed founder of visual arts education in Townsville. She began on her arrival in the city in 1961 with classes under her home, then at the TAFE and then helped establish the visual arts degree at James Cook University in the early 1990s, For more than 40 years Anneke has not only devoted herself to helping aspiring artists fulfil their potential but served as a living example of what can be achieved. Her work covers all genres from painting to sculpture to pottery, she can turn her hand, and her piercingly clear eye, to anything.
My greatest achievement so far has been to have the opportunity to expand people's awareness of their surroundings and appreciate them. I love it when people say 'You've opened our eyes'.
I don't have any regrets - I've enjoyed everything I've done and I've been content with what's come my way.
My favourite way of relaxing is going to wonderful places with my watercolour kit and melting into the landscape - the only way I can do that is if I have a brush in my hand. That's the fun part. The hard work comes when you go back into the studio and work out what to do with what you've got.
The quality I most admire in others is passion, whatever it's for it's essential to have passion.
The quality I most dislike in others is those who don't engage with any issues beyond the mundane.
If I could change something about myself it would be my nose.
The people I most admire are artists from all ages - from the Renaissance to contemporary times. I admire their work and it acts as a mentor to me and my work.
My most treasured possession is my house and garden, especially the riverbank. I love it, it's virgin bush and full of wildlife. I love to paint it, to swim in the river and just enjoy it. The house was built to fit into the bush - my husband Eddie and I built it and sitting in here the view of the river gives me such sustenance. I would hate to leave it.
My greatest fear is being prevented from doing what I want to do for whatever reason.
My greatest indulgence is chocolate.
My favourite holiday destination is anywhere wild and warm.
If I could live anywhere in the world I would live right here in North Queensland. It's the best place in the world and I've been to a lot of places.
My greatest dislike is people who deliberately destroy nature and all that goes with it. Devastating forests, cutting down trees, destroying water sources and destroying traditional lifestyles while they're at it. It happens across the world and it's a tragedy.'
On my tombstone I'd like 'She showed us how to look and love what we see'.